Hello, Sweets! We're back from our vacation and what a wonderful time we had! But I have to say....I missed all of you! I was very "good" and stayed off of all computers for an entire week, which may sound pathetic, but that's really "good" for me! There were even computer in the lobby of the resort we stayed at AND a couple of family members had laptops I could have borrowed but I resisted the temptation and came home to a big, fat, juicy, FULL inbox! ;)
Now I'm in the process of uploading and editing the LOADS of photos we took and Andrew just unplugged the camera from the computer so I'm going to have to do it in batches....ack! Oh well...he just looked at me in an awfully cute way, so I guess that makes up for it. :) Oh and trying to climb Laundry Mountain....ick....
So I want to tell you all about our vacation. My wonderful parents took all of us, my four sisters and my brother-in-law to Maui for a week! It was so beautiful and so much fun. Some of these photos are mine and some are my sisters'.
Here are my cute parents with my girls the first night we were there....
Oh wait...backing up...we spent one night in San Francisco so we could catch an early flight to Maui. While we were there we stopped at my high school friend, Sara's cupcake bakery! It's called "That Takes the Cake" and is as adorable as it sounds. And the cupcakes...well they were amazing!
After a 5-hour plane trip we landed in beautiful Maui and found our way to the lovely resort where we stayed, Ka'anapali Shores. We had a really lovely condo and I even got to indulge my controling self and put Andrew in a crib in HIS OWN ROOM where I completely insulated him from noise, just like at home!
Here we are the first evening, exploring the resort and surrounding beach.
Hee-hee! Just kidding! That is a funny sign I saw on eBay and thought was hysterical! We did NOT go to a nude beach. That actually sounds really, really SCARY to me!
This mid-jump shot is so typical of Miss Em!
All 3 kids LOVED the beach...
Lots of special time with their Aunties (I have 4 sisters so there's plenty of Aunties to go around!

Although we didn't take a piccy, James and I celebrated our 8th anniversary while we were there! We went out to dinner at a reaaaaaallly nice restaurant and my parents watched our kids. Such a special evening. I am so blessed and happy to be married to James....I can't imagine life without him.
James went with my sisters and my brother-in-law on a really neat bike ride. They were driven to the top of a volcano and then biked downhill (3 hours!), all the way to the beach. That's James with my sisters below.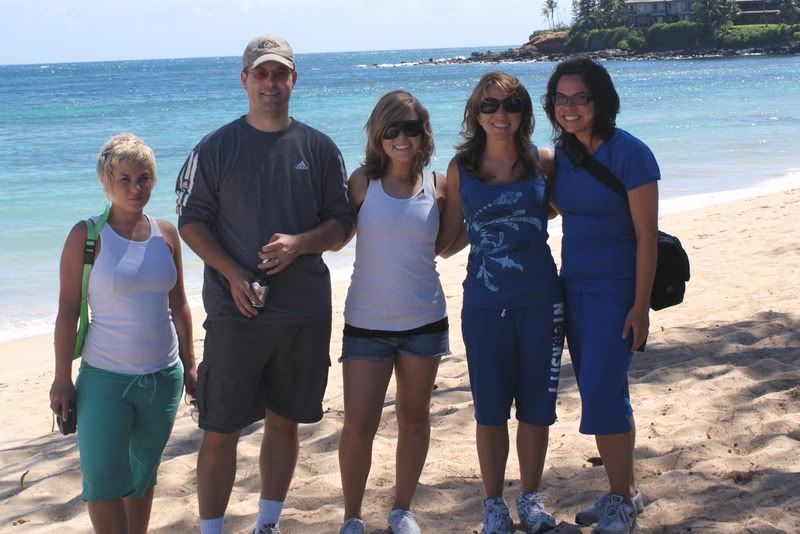 And here's one of our famous Sister Pics...
And here's a fabulous family photo of THE GROUP....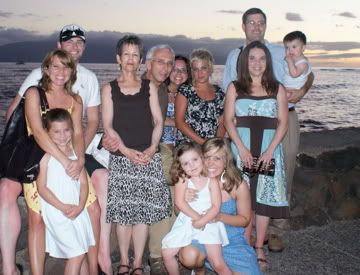 can you picture all the suitcases????



Such a great trip!!!!


And now for Yummy Monday, which you may have thought I'd forget about, but if you've hung in with me this far into the post, here you are. I thought I'd feature beach-inspired yummies today, which I hope you'll enjoy, as well.
So hop into my little dune-buggy and away we go!!!!
YUMMY THING ONE: Vintage Bathing Beauty Suitcase by Summersdarling
Look at this fabulous altered suitcase my friend Pat is selling! It is decopauged with loads of vintage images of bathing beauties, both inside and out. Incredible! You can find the auction
HERE
. Don't miss all the extras she is including inside the suitcase.
YUMMY THING TWO: Listen to the Sea Tags by SunshineandRavioli
Aren't these sweet? I love this seller's creations!
YUMMY THING THREE: Darling Sunhat by TheCelticCottage
O.k. so my bathing suit was black but IF it had been pink I would have loved to wear this hat. Adorable!
YUMMY THING FOUR: Wet Bag by PaisleyBaby
And isn't this cute for putting wet bathing suits and other assundries in. It's lined with waterproof fabric!
Well Sweets....that's it! Phew! That was a LONG POST! I've been working on that all day long, off and on! I got a really fun package in the mail today that I can't wait to blog about. You're going to DIE. Totally incredible!
Hope you have a lovely evening and a wonderful week.
love and hugs,
Cheryl :)